When the Brick Facade Started Cracking …
The owners of this semi-attached row home knew that they needed an expert opinion when they noticed cracks on their home's facade.
"We initially had problems with a crumbling retaining wall. We were so pleased with the work that Renaissance did on that, and we learned so much from them about old brick, that we returned without hesitation when we noticed cracking in the facade of our home. With an old home with such soft brick we knew we didn't want to cut corners."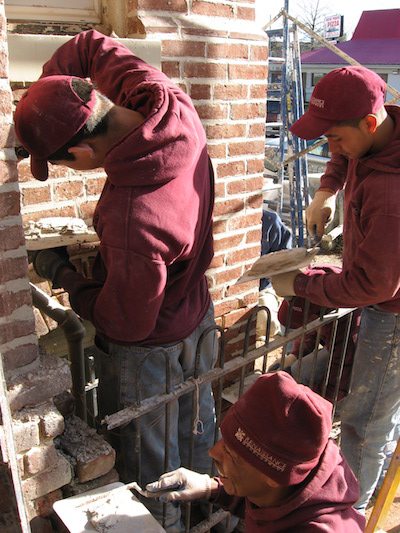 One of the things these homeowners learned during their earlier Renaissance project was how differently old brick and mortar must be maintained and restored than modern brick. Late 19th and early 20th-century brick homes like this one (throughout Washington, DC and Old Town Alexandria, VA), are made from brick that was clay-fired and softer than those that came later in the 20th century, with mass production and hotter furnaces. The trick to keeping old brick from cracking and breaking off in sections is to use the proper mix of mortar; too hard — like modern cement based mixes — and the softer, more absorbent brick will break as it tries to expand against the unrelenting mortar.
"The experience was great! We were especially impressed with the crew performing the work – they were clean and treated our home with care…. Our home looks great and we regularly get compliments from friends and neighbors."