Historic Georgetown Restoration
When this homeowner contacted Renaissance Development, she was concerned about broken and cracked bricks on the facade of her home. Additionally, there were both light and dark areas of discoloration.
"I had hoped that the problem could be simply spot treated. However, after Renaissance representatives examined the exterior of my home, they helped me understand that a spot treatment would only temporarily mask the deeper structural issues."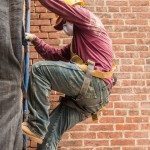 Lots of factors can contribute to the breakdown of old mortar, discoloration, and efflorescence – a white, powdery residue on the surface of the brick, resulting from a chemical reaction of water and salt penetration. Poor drainage, combined with deteriorating mortar that allows water to penetrate into and through the brick, is a big culprit.
Our job was to restore the integrity of the brickwork on the facade of this very special and historic home, where the years had taken their toll.
"Renaissance kept me updated every step of the way and promptly addressed any concerns or questions that I had. The oversight of the project was thorough at every level."